"Move over, John Grisham, here comes Jeannine Reardon!"
- SUSAN LAVIN, HOWARD COUNTY TIMES

"...a compelling read that will keep you turning page after page, hoping that justice will prevail."
- MICHAEL BALKIND, AUTHOR - SUDDEN DEATH and DEAD BALL on Confidential Communications

"J.R. Reardon does a splendid job of creating characters that we love, hate and fear."
- MIKE MONAHAN, AUTHOR of BARRACUDA on Confidential Communications

"This book will grab your attention if you are at all interested in law, mystery, betrayal and action. Just when you thought you had the story figured out, another twist was added to make you rethink all the character roles. I thoroughly enjoyed this book. The characters are greatly played out and the hint of comedy and sarcasm was just right." THE BOOK JOURNAL on Confidential Communications




WHAT IF THE KEY TO STOPPING A WAVE OF TERRORIST ATTACKS AGAINST THE UNITED STATES LIES IN THE HANDS OF A 13 YEAR OLD GIRL WHO IS TOO TERRIFIED TO TALK???

United States Supreme Court Justice Sean McNaught, the crucial swing vote on a divided court, has decided to retire. It is up to President James Cotson to find his
replacement. The President's search is plagued with problems as his first two
nominees are rejected. Worse, a wave of terrorist attacks targeting Supreme
Court Justices and members of Congress shock the nation. During this national
crisis, 13 year old Angelica Hernandez sits in the courtroom of Judge Rebecca
Tameron in the Federal District Court of Vermont, waiting for the sentencing of
Gedof Maradon, the man who brutally attacked her. Maradon fails to appear at his
sentencing and Angelica, who knows more about his crimes than she has told, is
in grave danger.Reardon's latest thriller once again sends Rebecca up and down
the East Coast, this time in a desperate attempt to protect an innocent young
girl as well as the lives of the country's highest officials. How can she
protect Angelica? What secrets does Angelica know? More importantly, how can
Rebecca possibly protect anyone when her own family is in danger?


A fast-paced, captivating and disturbingly credible thriller, ADVICE AND CONSENT
keeps readers engrossed in layers of suspense until a breathtaking conclusion
that they won't see coming!



---
In treachery, there is no honor…
Federal District Court Judge Rebecca Tameron seemed to have it all…a loving family, a prestigious career and the respect of her community ~ that is, until her world falls apart. Implicated
in the disappearance of a Supreme Court Justice, and the shooting of a Federal agent, Tameron scrambles to uncover the truth. The problem is, eachinvestigative leads she pursues only results in more questions, and every investigative avenue she takes leads back to her. How can she clear her name?While exploring the reaches, limits and dangers of our increasingly security-conscious and interconnected world, DISHONORED questions the faith we place in both strangers and friends and reminds us how perilous our techno-savvy life can be.


---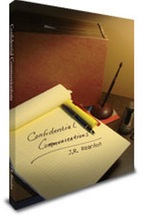 TRUST NO ONE...

Rebecca Lawson, a young general-practice attorney in Vermont, expected to expand her practice when she was hired by Allan Richards to investigate a suspicious employee. Instead, she finds herself amidst national and international conspiracies, manipulations and murder...

With the help of an old colleague, Joshua Tameron, she learns that the financial
security and innocent citizens of the United States are in imminent danger, and
it is up to them to expose the truth. Confidential Communications is a legal thriller that takes the reader on a ride which evaluates the vulnerability of us all while witnessing the downfall of
greed.






---

Copyright 2013 J.R. Reardon - All Rights Reserved. Text and media may not be reproduced without permission.